Ages 6+
Online-Only Price • $6.95
2 State Sets with your First Order!
The Great American Puzzle Club Adventure
Which Way USA is the perfect way to teach kids geography while they're having fun. Every three weeks, children get 2 State Sets full of fresh puzzles, interesting facts and engaging maps. They'll learn as they read, write and solve their way across the United States.
From Texas to Florida to New York – and everywhere in between – kids' confidence will soar as they complete challenges to earn points for their team of cross-country explorers. Plus, collectible maps and license-plate key tags let them bring their newfound state knowledge to the classroom and beyond!
Puzzle-solving FUN delivered right to your door!
2 State Puzzle Book and Map Sets every three weeks
Beautifully illustrated 36-page Puzzle Books filled with fun challenges and activities
Kid-friendly, geographically accurate State Maps to use in Which Way USA play–and beyond!
Boosts geography, history, social studies and problem-solving skills
Madcap race for points across the U.S. against comical rival teams
Collectible state License-Plate Key Tags
PLUS, you'll get the Official Game Guide and Key-Tag Ring with your first shipment!
When you place your Which Way USA order ONLINE, we'll send your first State Set for $6.95 ($1 off regular price) plus $2.98 shipping and handling. Plus, we'll send the California State Set absolutely FREE! You'll also get the Official Game Guide and Key-Tag Ring FREE with your first shipment! We'll continue to send 2 new State Sets about every three weeks at the same online price – just $6.95 per State Set, plus $2.98 shipping and handling.
You'll get $1 off each State Set for as long as you remain in the club. There is no minimum number of State Sets to buy, and you are free to cancel at any time. You can return any shipment you don't want at our expense and receive a full refund credited to your account. Your satisfaction is 100% guaranteed by Highlights.
Your first shipment will arrive within 2 to 4 weeks.
All payments are in U.S. dollars. State sales tax will be added where applicable. For your convenience, your credit card will be billed with each shipment.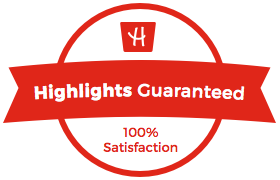 Our Guarantee
Your satisfaction is 100% guaranteed. You may return any shipment and owe nothing. If you wish to cancel an order or stop a shipment, just give us a call.