You have been redirected to the main content area of the page.
Ages 4-7
Available for U.S. Shipping Only
Puzzle Buzz Is Filled with Activities Kids Love!
Introduce your young child to the colorful and skill-building fun of puzzles, mazes, matching games and more!
Puzzle Buzz activity books are packed with age-appropriate puzzles for kids, including:
Mazes
Dot-to-dots
Beginning word searches
Thinking puzzles
Drawing and coloring activities
Hidden Pictures® puzzles
Coded messages
Matching games
Playtime with stickers
And much more
There's something new on every page!
Keep Your Child Happy, Busy and Feeling Proud!
What builds self-esteem in an eager young learner? Experienced parents and child experts agree, lasting confidence comes from a child's accomplishments – from winning small challenges and mastering new skills.
As you watch your child take delight in every puzzle, you'll feel great about the way Puzzle Buzz can help prepare your child for school. The activities are designed to reinforce thinking and learning skills, such as:
Comparing
Sequencing
Letter sounds
Word recognition
Spatial relations
Vocabulary development
Visual discrimination and perception
Concentration
Creativity
Logic
Quality You Won't Find Anywhere Else
No one knows kids better than Highlights. These durable, high-quality activity books are illustrated by top artists and written by experts with years of experience, making learning a joy for kids.
With Puzzle Buzz, the beginning level of Highlights Puzzle Club, even the youngest child learns to tackle activities independently, and puzzle-solving skills begin to grow. What's more, your child can switch to the advanced Puzzlemania® level at any time!
See "Features" to learn more.
Skill-Building Puzzles for Children Ages 4 to 7
Puzzle Buzz is a great way to enrich your child's learning with skill-building fun.
36 pages of fun for quiet time or for sharing with friends
2 new puzzle books every three weeks
Mazes, word games, codes, Hidden Pictures® puzzles and more
3 sticker puzzles in each book
Reinforces learning and school skills through play
Perfect for long car rides, rainy days and restaurants
Builds confidence with every fun and easy to reach challenge
Easy to switch levels
When you order PUZZLE BUZZ™ Club today, we'll send you your first Book for just $6.95, plus $3.49 shipping and handling. We'll also include a second Book and a Tote Bag FREE! We'll then send 2 books about every three weeks for just $6.95 per Book plus $3.49 shipping and handling, conveniently charged to your credit card. 
There is no minimum number of books to buy, and you are free to cancel at any time. You can return any shipment you don't want at our expense and receive a full refund credited to your account. Your satisfaction is 100% guaranteed.
When kids complete all the PUZZLE BUZZ level books, we'll begin shipping books from PUZZLEMANIA® and then PUZZLEMANIA SUPER CHALLENGE, the next levels up in HIGHLIGHTS PUZZLE CLUB for more experienced puzzlers. If you feel like your child is ready for more challenge sooner, just give us a call to transfer levels at any time. 
Your first shipment will arrive within 2 to 4 weeks. All payments are in U.S. dollars. State sales tax will be added to orders where applicable.
Get a Highlights tote bag FREE with your first shipment! Measures 11" x 12".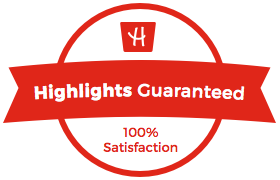 Our Guarantee
Your satisfaction is 100% guaranteed. You may return any shipment and owe nothing. If you wish to cancel an order or stop a shipment, just give us a call.