Wild … Challenging … Brain-Building Puzzles for Kids!
It's no surprise that more than 8 million families have said yes to the fun and learning of Puzzlemania. It keeps kids engaged and entertained while they practice important learning skills.
The more comfortable kids are using the skills they've learned, the more confident, independent and successful they'll become!
Puzzlemania puzzle books promote:
Reading
Writing
Math
Problem-solving
Strategic thinking skills
Concentration
Attention to detail
Independence
Self-assurance
Why Do Kids Love Puzzlemania?
It's fun.

Stickers,

Hidden Pictures®

puzzles, secret codes, word games, number and logic activities, and so much more. There's something for every child!

It's challenging. You can rest assured that we'll always send the most engaging age-appropriate puzzles for your child.
It's rewarding. Solving puzzles is so satisfying! As each page is completed, your child's confidence will grow. Puzzlemania promotes a "can do" attitude.
It builds important learning skills. Puzzlemania reinforces what kids have learned in school!
Why Do Parents Love Puzzlemania?
Puzzles boost brainpower!

The variety of challenges pumps up problem-solving abilities, thinking skills and creativity.

Reading is the key to learning. Playing with sounds, letters and words helps your child build reading, writing and vocabulary skills.
Stickers turn puzzles into a hands-on experience. Stickers strengthen your child's hand-eye coordination – important for writing and other fine motor skills.
Zeroing in on details helps your child concentrate. Inviting puzzles keep kids focused, increasing their attention span capabilities.
Just-Right Activities for Your Child
The editors at Highlights are experts at creating Fun with a Purpose™. If you find that Puzzlemania activities are not right for your child, contact us at any time to switch to the more achievable Puzzle Buzz™, or the more advanced Puzzlemania Super Challenge level of Highlights Puzzle Club.
See "Features" to learn more.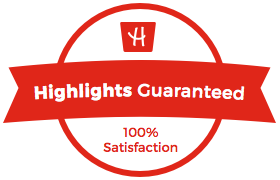 Our Guarantee
Your satisfaction is 100% guaranteed. You may return any shipment and owe nothing. If you wish to cancel an order or stop a shipment, just give us a call.
The Best Fits for Their Age