You have been redirected to the main content area of the page.
Ages 2-6
High Five Magazine One Year (12 Issues) Subscription + FREE Gift for You
Kids Love the Magazine That's All Their Own!
Your preschooler or kindergartner will love High Five™ magazine, because it's designed and written just for their age group. High Five is an exciting, colorful, fun-filled magazine developed by the early childhood experts at Highlights to encourage and inspire tender hearts and curious young minds.
Why Is the Sky Blue?
You've probably already experienced your little ones asking questions like this – all day long! – so you know how inquisitive and thirsty for knowledge kids this age are. High Five preschool magazines help you encourage your child's curiosity, and they give you an ideal opportunity for one-on-one fun together.
That's why High Five has stories, puzzles and activities that are expertly designed to nurture your preschooler or kindergartner's development. Every 36-page issue reinforces skills that prepare them for reading, math and other areas of learning –  but the kids only know that it's fun!
Getting Mail Is Exciting
For more than 70 years, children have been eagerly checking the mailbox, hoping to find a Highlights magazine with their name on it. Now, even 2- to 6-year-olds can experience that delight for themselves.
They'll have so much fun with each monthly issue, which is packed with read-aloud stories and poems, simple crafts and recipes, learning games, puzzles for beginners and other activities. They're the perfect magazines for kindergartners and preschoolers!
High Five™ children's magazine subscription is filled with features that help build important skills while playing. We call it Fun with a Purpose™.
What Does It Do?
Hidden Pictures® scenes develop visual acuity and vocabulary
Matching games and other puzzles boost thinking power
Easy recipes and crafts give kids self-confidence
Engaging activities encourage hands-on fun
Action rhymes get kids to exercise
Stories from other lands and cultures expand children's empathy
Kids Love:
Charming illustrations
Age-appropriate jokes and riddles
Easy puzzles that give them a feeling of success
Entertaining stories that they can relate to
Cute crafts and activities
Parents Love:
Sets kids on the path to becoming lifelong learners
Introduces basic concepts of science, nature and art through simple nonfiction articles
Teaches word recognition
Introduces math concepts
Promotes values and creativity
Also available digitally on tablet using the new, free High Five Magazine app! See FAQs 
FREE BONUS GIFTS!
As an extra bonus, you'll receive a FREE "Find It" activities and 2018 Hidden Pictures® Calendar with each subscription!
High Five magazine has won the following awards for excellence:
2016 Family Choice Award
2013 Family Choice Award
2012 Parent's Choice Award
2012 Golden Lamp Award for Excellence in Educational publishing
2011 Association of Educational Publishes Distinguished Achievement Award for Preschool Fiction
2011 National Parenting Publications Award Gold Winner
2010 Preschool Periodical of the Year Award
2010 Learning Magazine Teacher's Choice Award for the Family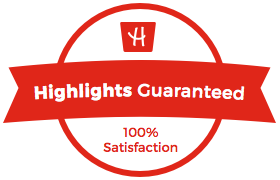 Our Guarantee
Your satisfaction is 100% guaranteed. You may return any shipment and owe nothing. If you wish to cancel an order or stop a shipment, just give us a call.
---
Grow with Highlights
Perfect for Every Age and Every Stage
Order one of our magazines now, then switch your subscription to another at any time.