Let's Play Hidden Pictures
Ages 3-6
Hidden Pictures Fun for Little Ones!
LET'S PLAY Hidden Pictures Club books are packed with age-appropriate Hidden Pictures puzzles, plus lots of other great activities you'll enjoy sharing with your child – all designed with the needs and developmental stages of children in mind.
For Beginning Puzzlers Ages 3 to 6
Each 36-page book brings younger children age-appropriate fun that will entertain them for hours, while building new skills and a sense of accomplishment.
LET'S PLAY Hidden Pictures delivers our famous hidden objects games, along with:
Sticker activities
Lovable characters
Introductions to Spanish
Dot-to-dots
Mazes
Poems
Word fun
Reading
And more - all wrapped in Highlights Hidden Pictures fun!
Kids Love It. You will, Too!
The editors at Highlights are experts at delivering Fun with a Purpose. The kids games and puzzles in LET'S PLAY Hidden Pictures are both engaging and rewarding.
Every activity helps reinforce the skills your child needs to succeed in the years ahead:
Pre-reading
Math
Problem solving
Figure/ground perception
Object constancy
School readiness
But most of all, it's fun!
Perfect for Growing Puzzlers
Hidden Pictures Club is a great way to spend one-on one-time with your little one. It's a joy to see your child begin to solve the puzzles independently. Even better, as your child grows, you can switch to the more challenging EAGLE-EYE level at any time!
See "Features" to learn more.
Find the Fun With LET'S PLAY Hidden Pictures!
For puzzle beginners ages 3 to 6:
2 new Hidden Pictures books about every three weeks
36-page puzzle books with 3 sticker activities in each
Hours of age-appropriate Hidden Pictures activities – anytime, anywhere!
Hidden objects games and puzzles that are perfect for together time, travel or on-the-go
Easy to switch levels
When you order PUZZLE BUZZ Club today, we'll send you your first Book for just $6.95, plus $3.49 shipping and handling. We'll then send 2 books about every three weeks for just $6.95 per Book plus $3.49 shipping and handling, conveniently charged to your credit card. 
There is no minimum number of books to buy, and you are free to cancel at any time. You can return any shipment you don't want at our expense and receive a full refund credited to your account. Your satisfaction is 100% guaranteed.
When kids complete all the PUZZLE BUZZ level books, we'll begin shipping books from PUZZLEMANIA and then PUZZLEMANIA SUPER CHALLENGE, the next levels up in HIGHLIGHTS PUZZLE CLUB for more experienced puzzlers. If you feel like your child is ready for more challenge sooner, just give us a call to transfer levels at any time.
Your first shipment will arrive within 2 to 4 weeks. All payments are in U.S. dollars. Sales tax will be collected where applicable.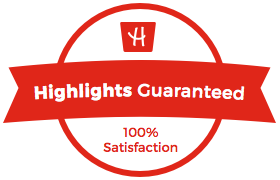 Our Guarantee
Your satisfaction is 100% guaranteed. You may return any shipment and owe nothing. If you wish to cancel an order or stop a shipment, just give us a call.