Eagle Eye Hidden Pictures Book Club
Ages 6+
Hidden Pictures® Fun Reimagined for Today's Kids!
When you think back to your childhood, what stands out as some of the most vivid memories? The ice cream truck. Beach vacations. Snow days. Highlights Hidden Pictures puzzles.
Now, you can give your child the same memorable, skill-building fun with EAGLE-EYE Hidden Pictures Club™!
For Experienced Seekers-and-Finders Ages 6 and Up
Each 36-page book brings experienced young puzzlers more advanced hidden objects games that reinforce learning concepts while kids have fun.
More challenging hidden objects puzzles
Crafts
Recipes
Hands-on activities
Introductions to world languages
Sticker activities
Delightful characters
Vocabulary-building play
And more - all wrapped in Highlights Hidden Pictures fun!
Pass Down the Legacy of Fun and Learning
The editors at Highlights are experts at delivering Fun with a Purpose. The kids games and puzzles in Eagle Eye Hidden Pictures are both engaging and rewarding.
Every activity helps reinforce the skills your child needs to succeed in school:
Reading
Math
Problem solving
Figure/ground perception
Object constancy
Reinforcement of school skills
But most of all, they're fun!
'Just-Right' Puzzles for Your Child
As your child works through EAGLE-EYE puzzles, he or she will feel a sense of accomplishment – and so will you. If your child finds EAGLE-EYE too challenging, simply contact us and we'll switch you to the more achievable LET'S PLAY level.
See "Features" to learn more.
Find the Fun With EAGLE-EYE Hidden Pictures!
For experienced seekers-and-finders ages 6 and up:
2 new Hidden Pictures® books about every three weeks
36-page puzzle books with 3 sticker activities in each
Hours of age-appropriate Hidden Pictures activities – anytime, anywhere!
Hidden objects games and puzzles that are perfect for encouraging independent play, travel or on-the-go
Easy to switch levels
hen you order EAGLE-EYE level of HIDDEN PICTURES CLUB™ today, we'll send you your first 2 Books and a Tote Bag for $6.95, plus $3.49 shipping and handling! We'll then send 2 books about every three weeks for just $6.95 per book plus $3.49 shipping and handling, conveniently charged to your credit card. 
There is no minimum number of books to buy, and you are free to cancel at any time. You can return any shipment you don't want at our expense and receive a full refund credited to your account. Your satisfaction is 100% guaranteed.

Your first shipment will arrive within 2 to 4 weeks. All payments are in U.S. dollars. State sales tax will be added to orders where applicable.
Get a Highlights tote bag FREE with your first shipment! Measures 11" x 12".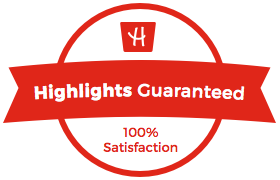 Our Guarantee
Your satisfaction is 100% guaranteed. You may return any shipment and owe nothing. If you wish to cancel an order or stop a shipment, just give us a call.