You have been redirected to the main content area of the page.
Ages 0-2
Highlights Hello Magazine $0.99 Trial (3 Month) Subscription
Delightful Fun for Baby and You to Share!
"Hello!" Come learn about Highlights Hello magazine for babies and toddlers!
Laughter and Learning
Each Hello magazine follows a theme such as Sounds, Food or Farm Animals, that helps young children make sense of their world. Every issue is filled with colorful images, whimsical read-aloud stories, poems and simple activities that make babies giggle, laugh and learn. You'll also find word play, games and lots of silly fun.
Babies love to look at other babies, so Hello also features plenty of photos of happy faces and little ones laughing and playing. Plus, our read-aloud stories are just the right length for even the youngest ones' attention spans.
Thoughtfully Designed
Hello is the perfect size for little hands to hold and to fit into a diaper bag or purse. It's also baby-safe, made of a tear-resistant, washable material with rounded corners and a stitched – not stapled – binding. For extra safety, Hello is mailed in an envelope that keeps it germ-free while it's on its way to your home.
You'll love watching your special little one get excited with every turn of a page. Best of all, time spent laughing, playing and reading Hello will help baby to make positive connections between reading and fun.
The childhood experts at Highlights have developed this special baby and toddler magazine to make it easy for parents to read to and bond with their little ones ages 0 to 2!
As always, Highlights is dedicated to Fun with a Purpose, so every issue of Highlights Hello:
Sparks creative play and laughter that strengthens parent-child bonding
Supports early language development
Engages babies and young children visually
Offers story-time tips for parents
Helps parents teach their kids about the joys of reading
Each 16-page issue of Hello is filled with age-appropriate content such as:
Themes that help toddlers understand the world around them
Photos and colorful illustrations guaranteed to make your baby smile
Word play, simple activities and games that encourage fun and silliness
Read-aloud stories, poems and songs that fit young attention spans
A just-right "Find It" version of our world-famous Hidden Pictures puzzles
We ensure baby's safety with:
Durable, tear-resistant pages
Washable material for easy cleanup
Rounded corners
Stitched, not stapled, binding
A sealed envelope so Hello arrives germ-free
Hello magazine for babies and toddlers has won the following awards for excellence:
2016 Family Choice Award
2015 National Parenting Publications Award
2014 Parent's Choice Award - Gold
2013 Family Choice Award
2013 Mom's Choice Award
2012 National Parenting Publications Award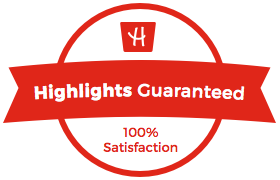 Our Guarantee
Your satisfaction is 100% guaranteed. You may return any shipment and owe nothing. If you wish to cancel an order or stop a shipment, just give us a call.
---
Grow with Highlights
Perfect for Every Age and Every Stage
Order one of our magazines now, then switch your subscription to another at any time.