Ages 4-7
Get a second book and a tote bag FREE!
Terrific for Puzzle Beginners!
What builds self-esteem in an eager young learner? Parents and child experts agree, lasting confidence comes from a child's accomplishments – from winning small challenges and mastering new skills. With Puzzle Buzz, even the youngest child learns to tackle activities independently, and puzzle-solving skills begin to grow.
If your child starts with the beginning Puzzle Buzz level and needs a greater challenge, simply contact us to switch to Puzzlemania®, the next level up in Highlights Puzzle Club.
36 pages of fun for quiet time or for sharing with friends
Mazes, word games, codes and more activities
Builds school skills through play
2 new books every three weeks
3 sticker puzzles in each book
Easy to switch levels
When you order PUZZLE BUZZ™ Club today, we'll send you your first Book for just $6.95, plus $2.98 shipping and handling. We'll also include a second Book and a Tote Bag FREE! We'll then send 2 books about every three weeks for just $6.95 per Book plus $2.98 shipping and handling, conveniently charged to your credit card.
There is no minimum number of books to buy, and you are free to cancel at any time. You can return any shipment you don't want at our expense and receive a full refund credited to your account. Your satisfaction is 100% guaranteed.
When kids complete all the PUZZLE BUZZ level books, we'll begin shipping books from PUZZLEMANIA® and then PUZZLEMANIA SUPER CHALLENGE, the next levels up in HIGHLIGHTS PUZZLE CLUB for more experienced puzzlers. If you feel like your child is ready for more challenge sooner, just give us a call to transfer levels at any time.
Your first shipment will arrive within 2 to 4 weeks. All payments are in U.S. dollars. Sales tax will be collected where applicable.
For Canadian delivery and offer details, click here. 
Join the Puzzle Buzz level of Highlights Puzzle Club now and you'll also receive a second book and a tote bag FREE!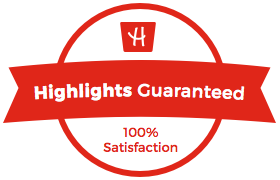 Our Guarantee
Your satisfaction is 100% guaranteed. You may return any shipment and owe nothing. If you wish to cancel an order or stop a shipment, just give us a call.